In this Arabian Nights slot review, the stories of the 1001 Arabian Nights are undoubtedly the most well-known Middle Eastern tales in Western culture. Alibaba and the 40 Thieves and Aladdin's Wonderful Lamp are among the classics in this collection of fiction written during the Islamic Golden Age.
There have been numerous adaptations of these classic tales, including one by Walt Disney. Now it's NetEnt's turn, with its progressive jackpot slot Arabian Nights transporting players to the scorching dunes of the Middle East.
Related Topic: Top Classic Slots That You Never Playing
Best Arabian Nights Slot Review
It's actually a good thing Arabian Nights comes with a jackpot because it would be difficult to enjoy the game without it. Arabian Nights is a game that has seen better days, so it isn't quite new.
Indeed, it resembles an old-fashioned land-based game. Still, it's all about winning big money, and the graphics aren't going to deter serious jackpot hunters.
The gameplay can also be described as "classic." The slot has a simple 5-reel, 10-payline configuration on which you can try your luck. The game takes place at night in an Arabic environment painted in various shades of purple.
A crescent moon hovers in the sky above the plain scene, which features a barrow full of watermelons for some reason. It may not appear to be a machine capable of multi-million euro rewards at first glance, but appearances may be deceiving.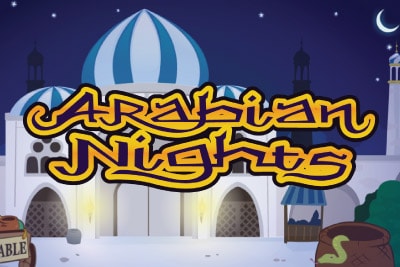 Arabian Nights Slot RTP, Volatility, and Gameplay
Bets range from 10 pence per spin to £/€200 per spin, and can be placed on any device. RTP is decent for a jackpot slot, with 95.62 percent for local networks and 95.22 percent when connected to the worldwide network.
A high hit rate of 38.95 percent will keep players interested if they prefer constant winnings on a low volatility math model, which means that nearly every 2.5 spins will yield some form of prize. Arabian Nights is capable of providing decent non-jackpot wins from its features, even if it isn't the big one.
As previously said, the gameplay is straightforward, with players having 10 fixed paylines on which to land winning combinations. To form a combination, at least three adjacent matching symbols from the leftmost reel are required. There are ten standard paylines, a wild, and a scatter symbol to spin for the big prize.
A camel, fez, tent, slippers, and scimitar make up the low numbers, while a camel, fez, tent, slippers, and scimitar make up the highs. Perhaps a tad cliched, but all in keeping with the subject. The premiums are fairly substantial, with five on a line worth anything between 15 and 200 times the stake.
The gem dealer has gone berserk in more ways than one. For one thing, when four of them appear on a payline, it can be worth up to 250 times the bet. In addition, the wild sign can be used to form a combination with any other symbol, and when it does, the win value is doubled.
The Slot Features
The Judi slot jackpot is the main attraction, but there's also a round of free spins to keep things interesting. The lamp scatter symbol is what you need for these. Landing two, three, four, or five lamps awards 2x, 5x, 20x, or 200x the stake, respectively, and three or more lamps activate the free spins feature. This bonus begins with 15 free spins, during which all wins are increased by three.
It doesn't matter because Arabian Nights slot review looks like someone has shaved their dog and taught it to move slowly because the payoff is so high. This is one of the biggest jackpot winners, with payouts of more than £7 million.
The smallest jackpot won so far was £68,000, while the average pot size when hit is £1.3 million. When it comes to numbers like that, a sizable portion of the gaming community will gladly accept images from the 1990s.
Finally, if you are into the themed slots like Arabian Nights slot game, we have some suggestions for you. Just try Diamond Dozen, Cleopatra, and Mars Odyssey. These slots are our favorites in themed-slots. You'll have fun while getting some nice profit for your bankroll. Best wishes!
Read More: The Interesting Fact about Betting on Virtual Football World Cup